UNIDO and UNDP launch the "Lebanon Export Academy" in support of MSMEs in the agri-food and agriculture sector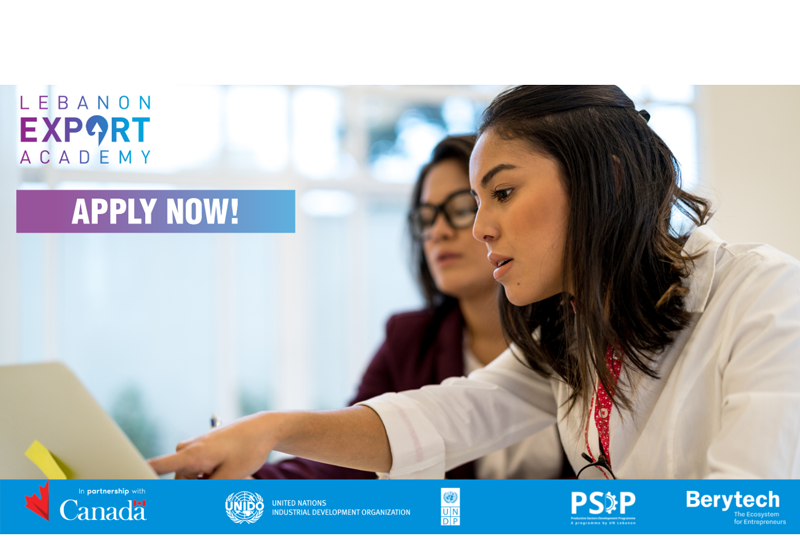 The academy equips women and men-led MSMEs and Cooperatives in Lebanon with the required know-how and practical export skills to scale up their operations and foster their readiness to export. As an initial phase, the academy will provide training to 70 MSMEs and Cooperatives, of which 40 are women-led businesses.
Companies will have access to flexible learning schemes adapted to their needs and schedules. Multiple choices are offered from in-person and online classes to self-paced courses, covering export-related topics including export plan write-up, market research, export documentation, and export prices (from identifying export costs to setting a competitive price to sell products), among other topics.
Lebanon is undergoing an unprecedented economic and financial crisis classified by the World Bank as "one of the worst the world has seen in the past 150 years". This breakdown aggravated by the COVID-19 pandemic, has incurred heavy damages on the business ecosystem and the labor market in Lebanon. Since October 2019, 79% of firms reduced their sales by 69% and small firms bore a bigger impact as demands for products and services drop (World Bank).
This economic breakdown has called for urgent actions to help local businesses become ready to export and access new markets, particularly women and men-led MSMEs operating in the productive sectors. However, there are opportunities arising in the Agriculture and Agri-food sectors as major contributors to economic opportunities and job creation for women and youth in underprivileged areas. In this context, MSMEs need to acquire the specific know-hows and tools to maintain their businesses and reach sustainable growth.
In order to address these challenges, UNIDO in partnership with UNDP and Berytech has launched the "Lebanon Export Academy", as part of its Productive Sectors Development Program (PSDP), a UN-joint initiative funded through the generous contribution of the Government of Canada to revive the agriculture and agri-food sectors in Lebanon.
How to Apply to the Lebanon Export Academy?
As the academy launches its first training, we encourage MSMEs and women-led MSMEs in the agriculture and agri-food sectors to join the program. Whether you are an established exporter or just starting your export strategy, apply now to create new opportunities, reach international markets, and reinforce the country's economy.
The selection criteria include being a registered MSME with at least three employees, working on a specific value-chain identified as having potential for growth and export, and having two senior representatives from each company dedicated to the program, including at least one woman.
Women-led businesses are highly encouraged to apply and join the academy as they represent the engines for Lebanon's economic recovery.
To learn more about the program and to apply, visit: https://berytech.org/programs/lebanon-export-academy/


For further information, please contact:
Ms. Nivine CHAHNI, Project Coordinator,
UNIDO Office for Jordan, Lebanon and Syria
Telephone: +961-70-969170
Email: n.chahni@unido.org